All I am seeing all over the Warcraft groups I belong to is,
Hati's Back.  And Hunters all across Azeroth are rejoicing.
I'm happy that an aspect of a class that had meaning to a great many people has been put back into the game.
Now I have to get myself ready to deal with that cursed dagger again.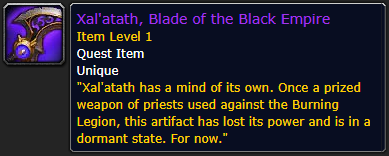 Not really looking forward to having this back in the game.  It got so annoying for me during legion I turned all dialog down to zero in the interface.  But I guess some times things have to get put into the game in order to make the story flow.